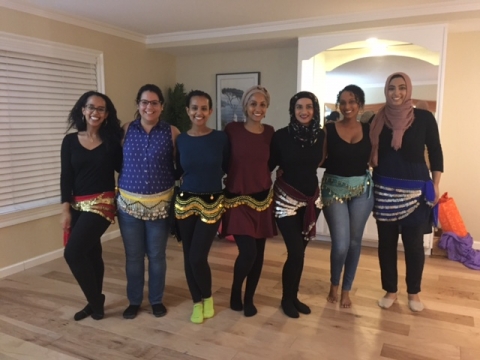 Mind-body benefits of belly dance class:
Attracting a positive state of mind

Managing a full body workout

Improving dance movements and dance creativity

Increasing stamina and body core strengthening

Building self-confidence

Effective for weight losing
Belly Dance class gives you a sexy and creative full body workout with focusing on belly dance techniques, posture, body alignment, and choreography.
Mixed level class offers an introduction to basic belly dance techniques including posture, muscle isolations, and traveling along with working on more advanced movements like body undulations, hip and chest work articulation, shimmies, and arm techniques.
This class includes full body warm-up that incorporates yoga and various strength training exercises.
Please wear clothing that makes you feel comfortable and don't forget to bring a hip scarf or coin belt to emphasize you hip movements.

Group Mixed Level Belly Dance Class
Milpitas Dance Studio
Time: Tuesday, Wednesday, Thursday 7 pm
Price: $20 per class.
Semi-private class
Milpitas Dance Studio
Time: TBD
Price: $25 per class.
Private Belly Dance class
Milpitas Dance Studio
Time: TBD
Price: $50 per class.
Book Katia for group class full of fun and new moves when you have a birthday party, baby shower or wedding.  
Learn a group choreography and perform with your friends at any event!